Innovative Solutions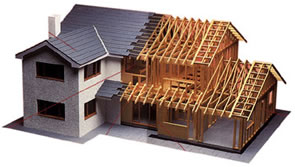 Oregon Timber Frame delivers safe, sustainable solutions for today's construction industry. We continue to research the best ways to provide a service to you giving you the best possible value for money.
Quality Assurance
Oregon Timber Frame Ltd is committed to quality and the process of continuous improvement in all aspects of its operations. Quality Management systems are in place across the business to ensure the maintenance and development of quality standards geared to customer satisfaction.
To support this Oregon Timber Frame Ltd. has been certified to ISO 9001 since February 2008. Each activity within our business has a laid down procedure, which is internally audited at least annually. We also ensure that information is disseminated to our employees. The system is independently assessed each year to ensure continued compliance with the standard.
A Quality Service You Can Trust
Oregon have a vast experience in timber frame design and manufacture and have developed a strong reputation over the years for completing projects on time and budget. The excellent site practice adopted has been recognised by our customers and by Housebuilder magazine, with various awards including "Subcontractor of the Year 2015″.